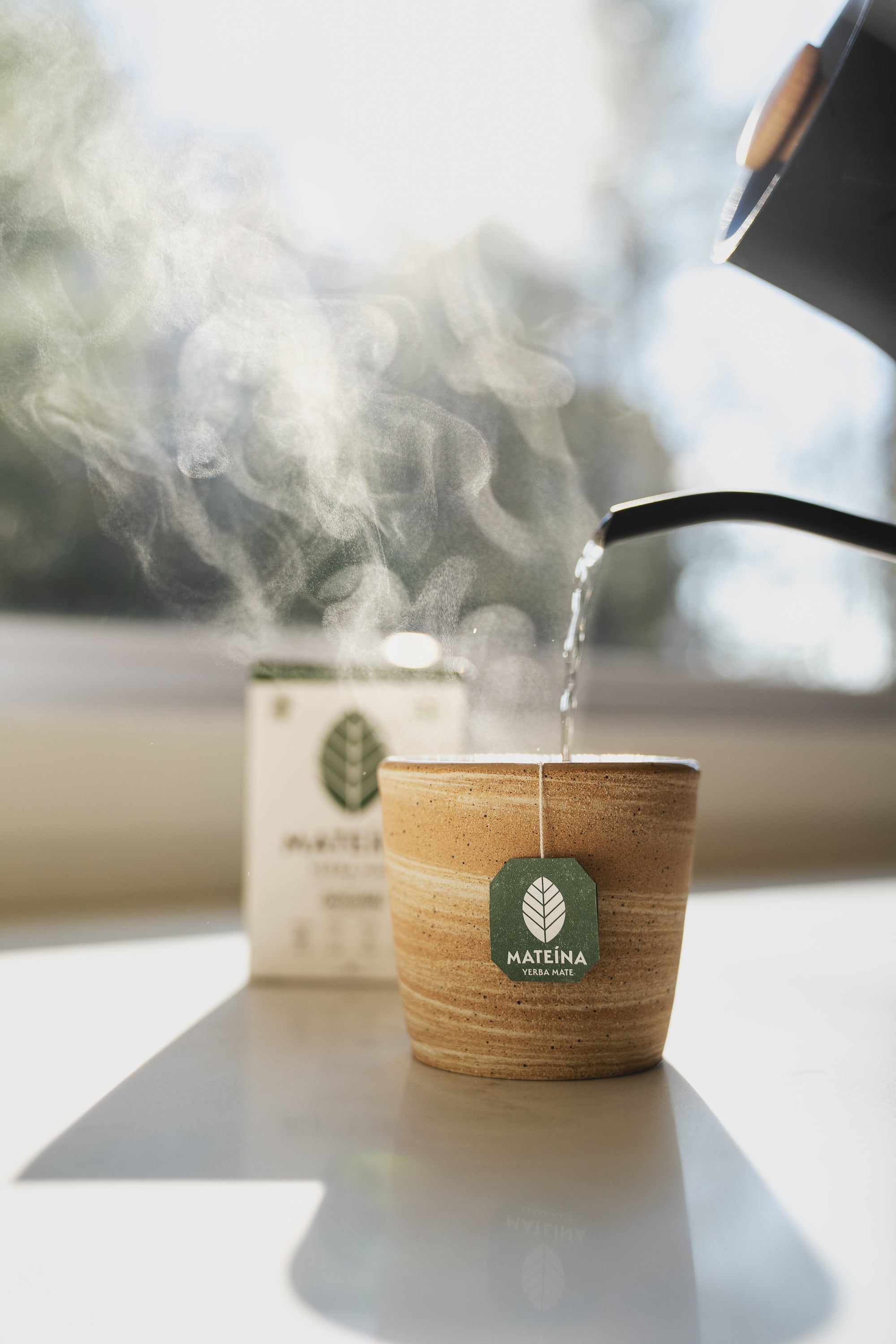 Mateina Original 🍃
Our Yerba Mate is cultivated by a farming family of northeastern Argentina that practices an environmentally friendly and 100% organic agriculture. 

Each mate bag boasts approximately 30 mg of caffeine, providing a subtle energy lift. Our 100% air-dried leaves bestow a delicate flavor with charming vegetal and fruity notes.

Champion sustainability with our 100% compostable tea bags, thoughtfully packed in boxes of 16 mate bags, each containing 1.5g of pure organic goodness.
Certified Organic

Non GMO

Vegan

Fairly Traded

Smoke Free
FAQs
Yerba Mate (yer-bah mah-tay) is a plant cousin to tea that stands out for its balanced energizing effects, nutritional profile, taste and its unique infusion method.
Native to northern Argentina, Paraguay and southern Brazil, Yerba Mate has its own culture based on the values of friendship and sharing.
Our Yerba Mate Tea is cultivated by a fourth-generation farmer family in the province of Misiones, northeastern Argentina.
Find more on our What is Yerba Mate page!
Yerba Mate is naturally rich in antioxidants, nutrients, caffeine and Theobromine. Capable of increasing your energy level and improve mental focus without the side effect often related to caffeine intake.
We also often hear that Yerba Mate:
Can increase bone density
Can help weight loss
Can help stimulate the immune system
Can reduce blood sugar levels
May reduce your risk of heart disease
Can improve your mood (thanks to thebromine)
Read all the benefits of drinking Yerba Mate on our page The benefits of drinking Yerba Mate
The Yerba Mate plant (Ilex paraguariensis) is a different specie from the tea plant (Camilia Sinensis). Here's why:
While Camelia Sinensis mainly grows in Asia, Yerba Mate exclusively grows in South America. Both plants contain Caffeine, but unlike the tea plant, Yerba Mate contain an alkaloid called Theobromine (also found in cacao). Theobromine is a lot different from caffeine because it offers more relaxed and longer energy without the spike and crash.
We often hear that the Yerba Mate plant is known to have the energizing qualities of coffee, the health benefits of green tea and the euphoria of chocolate.
Yerba Mate is also the only infusion to be consumed with a gourd and bombilla (metal filtering straw). Here's 5 reasons to brew yerba mate the traditional way with a gourd and bombilla.
Most of the world's Yerba Mate is processed using a heavily smoked drying system that uses burnt wood to dry the mate leaves. This drying method is known to produce a Yerba Mate that contains polycyclic aromatic hydrocarbons (PAHs), chemicals that have been shown to be carcinogenic if consumed in high concentrations.
Our Yerba Mate is 100% air dried through a process that use warm air instead of smoke. That drying system enable the leaves to be free of PAHs. This creates a safe, healthy and light tasting yerba mate.
Here's why it's very important to avoid smoked Yerba Mate Tea.
Mateina's Yerba Mate is cultivated by a fourth generation farming family in Argentina who practice an organic, fair trade and sustainable agriculture. More precisely, in the province of Misiones, Argentina.
Our Yerba Mate is cultivated with respect for the native forests. The chosen method allows a natural and sustainable cohabitation between the different botanical species.