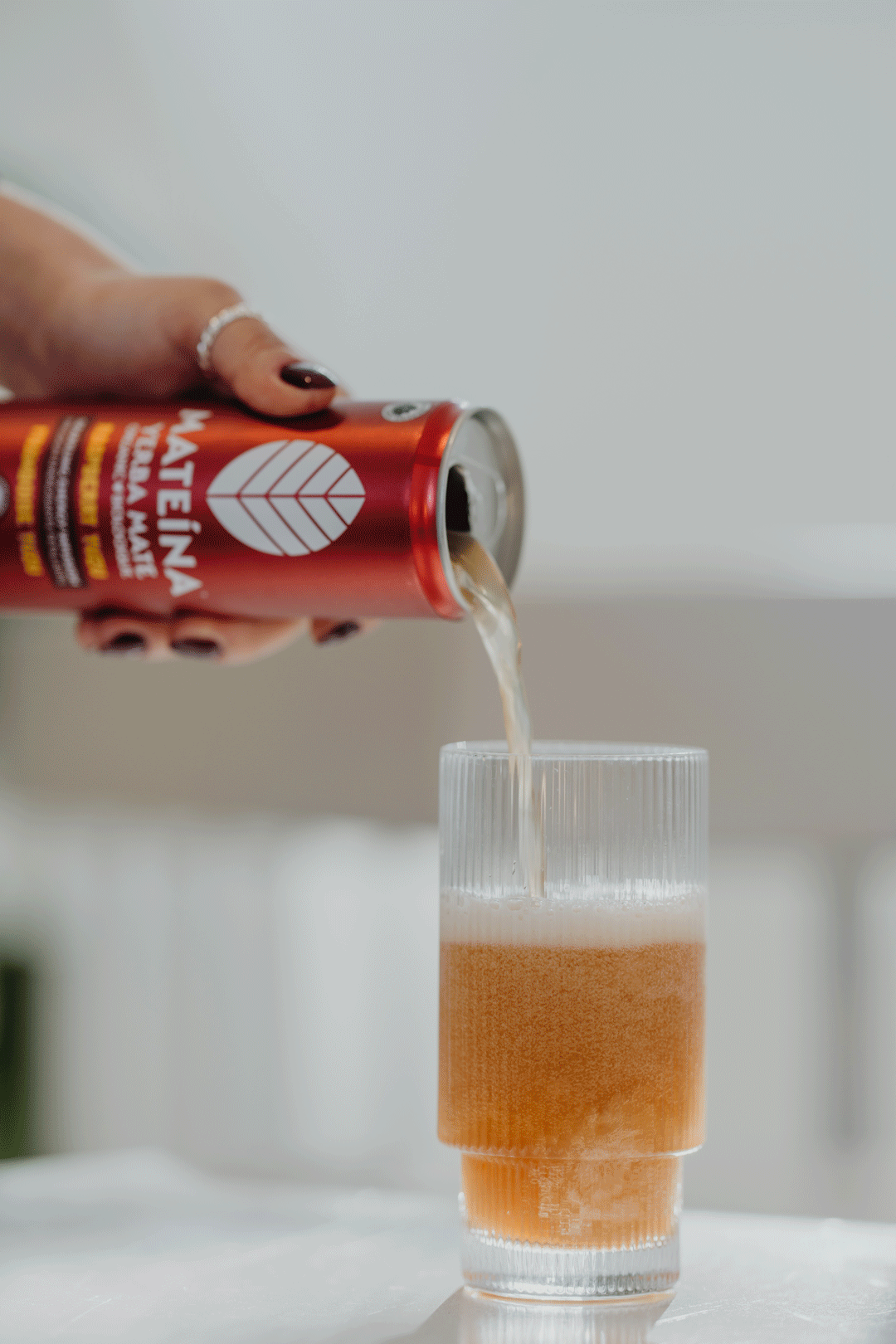 Raspberry Yuzu 🍋
The Yuzu (often called a Japanese lemon) has a similar taste to a lemon, but is widely known for its calming, highly-aromatic scent. We've paired this with a bright, sweet raspberry flavor to create a truly unique thirst quenching taste!

Enjoy all the benefits and balanced energy of yerba mate in a refreshing and lightly sweetened ready-to-drink beverage
Only Natural Ingredients 🌿
✓ Infused Organic Yerba Mate
✓ Organic Cane Sugar
✓ Organic Raspberry Juice Concentrate
✓ Organic Cranberry Juice Concentrate
✓ Organic Lemon Juice Concentrate
✓ Organic Green Yerba Mate Extract (leaves)
✓ Organic Raspberry Flavour
✓ Organic Yuzu Flavour
✓ Citric Acid (natural acidifier)
Organic

6-8g of Sugar

Vegan

Gluten Free

Non GMO

Plant Powered
FAQs
Yerba Mate is naturally rich in antioxidants, nutrients, caffeine and Theobromine. Capable of increasing your energy level and improve mental focus without the side effect often related to caffeine intake.
We also often hear that Yerba Mate:
Can increase bone density
Can help weight loss
Can help stimulate the immune system
Can reduce blood sugar levels
May reduce your risk of heart disease
Can improve your mood (thanks to thebromine)
Read all the benefits of drinking Yerba Mate on our page The benefits of drinking Yerba Mate
Mateina Yerba Mate Drinks are a much better option than energy drinks. The only source of stimulant in Yerba Mate is the naturally occurring caffeine and theobromine coming from an infusion of the dried leaves.
Yerba Mate will keep you focus and energized for hours without the jitters, crash and anxious feeling that you may feel when you consume energy drinks.
An energy drink is just a base of sparkling water in which several active ingredients (synthetic caffeine, vitamins, taurine, A LOT of processed sugar or fake sugar etc) are added.

Mateina is a simple tea infusion made from brewed leaves!

It's also:

Made with 4x less sugar than an energy drink (organic cane sugars only)

Made with simple, natural & organic ingredients only.

Rich in naturally occurring caffeine (from yerba mate leaves). This assures the gentle, balanced energy we all love.

Lighter! A lot lighter than traditionnal energy drink, just like a delicious, refreshing homemade iced tea (perfectly sweetened).

If it's not enough to convince you, here are 3 good reasons to swap your usual energy drink for yerba mate!
Our ready-to-drink sparkling line is lighter in caffeine with 80 mg per can (355 ml). A regular espresso shot is said to contain about 40 mg of caffeine, so our sparkling infusions are roughly equivalent to a double espresso. This product line is mainly composed (for the moment) of the Mango Ley Lime, which is at the top of the list. An energy infusion much appreciated for its bubbles, it's light and slighty sweet taste. Other sparkling flavors are on the way, stay tuned! 
Our non-sparkling ready-to-drink beverages naturally have a higher caffeine concentration. It contains 130 mg of caffeine per can, all from organic Yerba Mate leaves. We currently offer 5 flavours of non-sparkling ready-to-drink; Original Lemon (our classic), Peach-Passion, Blueberry-Haskap, Grapefruit-Guava and Hibiscus-Berries.  
Each ready-to-drink recipe is unique and has been carefully crafted by Mateina's founder Nic. If you have trouble choosing, we have an option for you; the discovery pack!
Don't hesitate to contact us for more information at info@mateina.ca
A cup of hot brewed Yerba Mate Tea contain anywhere between 80 and 150 mg of naturally occurring caffeine.
A traditional Yerba Mate infusion using a gourd and bombilla contain anywhere between 150 and 200 mg of caffeine if you use 50 grams of loose-leaf yerba mate and infuse it 15 times (as suggested on our preparation page)
Mateina's Yerba Mate Canned Drinks contain 80 or 130 mg of caffeine. Our non-sparkling Yerba Mate contain 130mg per can and our sparkling version contain 80 mg per can.
Yerba Mate in a Tea Bag contain around 25 mg of caffeine per cup when you use one bag.
We want to make sure that our Yerba Mate drinks always have the best taste possible. That's why we make sure not to use any sweeteners like aspartame, stevia or any "fake" sugars in our products. The reason for this is that these sweeteners often have an aftertaste which often ruins the real taste of the drink.
The only sugar present in our ready to drink products comes from organic fruit juices and cane sugar. We use a maximum of 8g of sugar per can of 355 ml, which is 4 to 5 times less than what you find in conventional energy drinks.